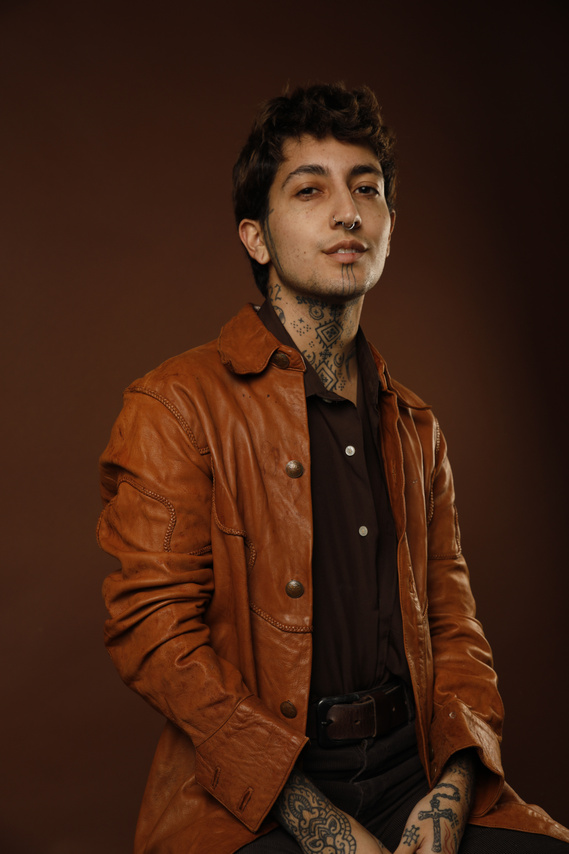 Coyote Park (he/they) is a 2Spirit, Indigenous (Yurok) Korean-American transgender artist based in Los Angeles. Park is a photographer, filmmaker, author, actor, and painter. They were raised in the Kingdom of Hawai'i on the island of Oahu, then lived and worked in New York City. They returned to Southern California, where their work paints a picture of land and body relationships. Their photography often documents their chosen family in Hawai'i, as well as across Turtle Island.
Photo series of theirs includes "All Kin is Blood Kin" (2020 - current) documenting domestic spaces and outdoor environments with their trans family. "Ten Thousand Honeymoons" a celebration of trans sexuality. "Divinely Protected" photographing queer couples of color. Their work has shown in the Museum of Sex, Leslie-Lohman Museum, The Koppel Project, Aupuni Space, and more. Upcoming shows will be a solo "I Love You like Mirrors Do" at Leslie-Lohman Museum (February 2022-July 2022) and a group show at the Finnish Museum of Photography.
Published works include "Heart of a Shapeshifter" a poetry, short essay, and prose collection (GenderFail) and "Behind Shut Eyes" a QTBIPOC dream anthology.
They are currently in the pre-production process of their feature film "Destiny in Sedona" a QTBIPOC romance drama, directed by Tee Jaehyung Park. It is in development with the IllumiNative Producers Program in Partnership with Netflix.
Park's practice centers queer love, community, and trans futures. Their work is a pathway to healing and dreaming up new worlds.
(scroll down for more info)
Exhibitions

Chosen (Group Show) Leslie-Lohman Museum, June 2021
https://www.trnk-nyc.com/pages/chosen
https://www.vogue.com/article/inside-the-intimate-new-york-photography-exhibition-celebrating-queer-chosen-families
Untouchable Artifacts Five Oaks Museum, July 2021 ● painting
All Kin is Blood Kin (Solo Exhibition) Aupuni, August 2021 ● photography
Biskaabiiyang: returning to ourselves All My Relations Arts, October 2021 ● painting
SEEN SN37, May 2022 ● photography
We Exist London The Koppel Project, May 2022 ● photography
F*ck Art: The Body and Its Absence Museum of Sex, June 2022 ● photography
Maps Bleed Like Veins Do NeueHouse, November 2022 ● photography & film
Blacklist Me The Chapter House LA, November 2022 ● writing
UPCOMING
I Love You Like Mirrors Do (Solo Exhibition) Leslie-Lohman Museum, February 2023 ● photography
https://www.leslielohman.org/exhibitions/coyote-park-i-love-you-like-mirrors-do
https://www.culturedmag.com/article/2023/01/12/coyote-park-queer-trans-indigenous-art-show
(TBA) Finnish Museum of Photography, April 2023 ● photography
Professional Inquiries
For work related opportunities: email coyotepark808@gmail.com